Live Dealer Blackjack: Alive and Kicking [Best of All Worlds]
To master blackjack is to successfully deal with a hand building the new domain: online, offline, and in between.
As a general rule, the blackjack community consists of two groups of gamblers — patrons indulging their favorite pastime in brick-and-mortar casinos and players trying their skills and luck in online gambling houses. Striving for the same outcome, each group approaches blackjack in a distinct manner and enjoy in a slightly different experience.
Gamblers visiting casino floors in Las Vegas revel in social interactions, integration of gambling with entertainment, venue amenities, and rush of immersive involvement. Online players prefer to play in the privacy of their chosen settings, being able to browse from casino to casino and to satisfy their impulses and intentions in a single notion of a mouse click.
Each option has its advantages and drawbacks, providing gamblers with myriad options to choose from.
Players in the intersection of these two possibilities, though, wanting a little bit of both, were left with a hard choice as the only option. Until recently.
Enter…
Live dealer blackjack, a unique real-time mishmash of information technology and land-based casino.
Delivering the mix of iGaming and traditional gambling, the concept is rather simple.
Being physically dislocated, players enjoy in professional support of live dealers as if they are sitting at a blackjack table on the casino floor; beautiful women deal the cards, patrons talk to them via chat, while video cameras capture not only the table and dealer but broadcast the footage in real-time on the internet.
The concept is also brilliantly potent.
By using software settings, players can define the image quality, change camera angles, adjust the window size, and customize the game performance to match not only preferences but internet connection speed as well. Games history and analytics are at hand both on desktop and mobile devices. Live games can be hosted anywhere, from real casino tables to studios; in case of the latter, the set design offers limitless entertainment potentials in terms of virtual and augmented reality.
In addition, it is marketed as a table game variant that does not require extended players' training; blackjack basics will suffice. The casino staff is there to help with rules and available game options as a number of applications provide for a step-by-step tutorial, easing up the learning curve.
In a way, live dealer blackjack delivers an authentic gaming experience to players and enticing business opportunities to casinos.
Bit of Everything is Not for Everyone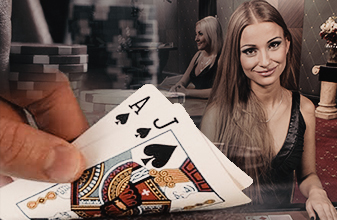 Consequently, it's going mainstream, gaining popularity due to diversity, professional service, and widespread appeal to players. To no surprise: it is the best of both worlds.
As they possess the advantage of two extremely experienced gambling camps — land-based casinos and iGaming providers — live dealer blackjack software developers enable unique game variants.
There are games run by two lively dealers at the same time. Players can be simultaneously dealt the same hand. The volume of minor variations and tweaks of classic rules available only for consummation on the gaming screen is, in effect, limited only by innovation and players' experience.
When it comes to variants, casino software providers usually run live dealer blackjack that pays 3:2 for a natural blackjack, where the pair splitting is allowed, and the dealer stands or hits on soft 17. (Even if you by some chance run into 6:5 payout, you should avoid it for a number of reasons.)
Notwithstanding the whole nine yards of an advantageous side of live dealer blackjack, from the players' experience standing point, two peculiar questions — among many in the vivid world of game myths — momentarily come to mind: does card counting works here too, and, are the games rigged?
Of course, every experienced iGaming player always have the latter on its mind, to the level of embraced paranoia we just can't do a thing about.
So, to cover it firstly — games are most likely not rigged. The hoax could be tracked statistically and eventually confirmed (though it would require at least 25,000 hands, ideally 100,000), casinos caught cheating would have to pay millions of dollars (provided they stay in business at all), while everything would be video recorded.
That being said, live dealer games are as susceptible to rigging as are all blackjack games everywhere, whether by short shoes (removing high cards from the shoe), anchorman (third base player working with casino) or double anchor (second player at the table), prism shoes (card reflections using gaffed shoes), or number of other ways players can be cheated.
The proper way to suspend such options as much as possible in live dealer blackjack is to play only in the credible casino licensed from the reputable jurisdiction, deploying games from the trustworthy software provider.
Which is exactly how any experienced blackjack iGamer handles the rigging paranoia in the first place: by carefully employing advantages of online games.
Does card counting work? Most likely not, and it comes down to the mechanics of live dealer blackjack. Namely, in the majority of online casinos, the shoe is reshuffled when it reaches half or even less. The reason is to suppress card counting tactics; players can try to keep track of cards, of course, but no one can know for sure if and when the decks have been reshuffled.
Not Everyone Can Get Everything
On the other hand, nothing is impossible in blackjack. Whether one is Raymond Babbitt (yes, the Rain Man) or just an outstandingly knowledgeable and disciplined aficionado of the game, the house can be beaten.
Which is probably the reason why all players with grievances to the fairness of blackjack hands stop complaining in the end: by tracking down the analytics of cards dealt, they usually find out faults and slipups are on them.
Now, the majority of online experiences in our lives are just extensions of the world we live in.
Thus, live dealer blackjack is the protruding and refreshing entity providing for the best of both worlds for those who want more than one.
Then again…
Only when we master the world we live in can we expect to successfully build another one.
Every initiated blackjack player knows this all too well; gambling poems have been written about it.
To master and enjoy in this table game, more often than not…
The successful solution lays in well-informed, intelligent, and analytical effort to beat the house through knowledge of strategies and bet sizing concepts, the ability to identify positive opportunities, and the discipline to play only positive ones.
Live dealer blackjack is just one of many resources players have at their disposals to achieve this end. The rest is the question of players' skills, dealers' luck, and great fun lurking somewhere in between.
For further reading on live dealer online blackjack you can visit liveblackjack.co.